Raman Science Festival -National Science Day
SCIENCE was never this much FUN
1. Science of Wizard – Experience the science of magic with fun experiments 
2. Be an Alchemist  – Fun Chemistry experiments using materials available at home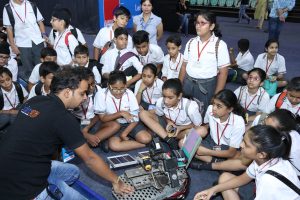 Robotics and IOT Workshop
Participants will learn  Home Automation, Robotics and Coding 
Spectacular Science Experiments all LIVE on stage.
Talk from Eminent Scientists
Speak to experts on amazing science topics 
Participate in the Quiz and Win amazing goodies and classes
Kiddo Engineering – Experience the magic of STEM by designing your own science toy from recyclable materials 
Sir Chandrasekhara Venkata Raman was an Indian physicist, who gave the famous theory of 'Raman effect'. He was honoured with the Nobel Prize for Physics in 1930 as he carried out the ground-breaking work in the field of light scattering. National Science Day is celebrated in India on 28 February each year to mark the discovery of the Raman effect by Indian physicist Sir C. V. Raman on 28 February 1928. This festival is our Tribute to our India's pride Sir C V Raman.
Rajaram Nityananda
Physicist at Azim Premji University
Mr Jyoti Parruck
Science Facilitator
RSC
Adil
Science Promoter ScienceUtsav
Organizers and Knowledge Partners