Birthday celebrations are always a lot of fun! You get to spend time with your family and friends, eat wonderful food and cake, dance to your favourite songs, and much more. To make a birthday party special, however, it must go above and beyond the typical celebration style! So, if you want to throw an outstanding birthday party for your child, you need to plan accordingly and take care of all the details of the celebration.
Throwing a birthday party, or organising any event for that matter, can be stressful and daunting. However, if you prepare and strategize properly, it may be much easier and more enjoyable. 
Here's a detailed birthday party planning checklist to assist you in organising a fun and successful kid's birthday party in 2023
Planning in advance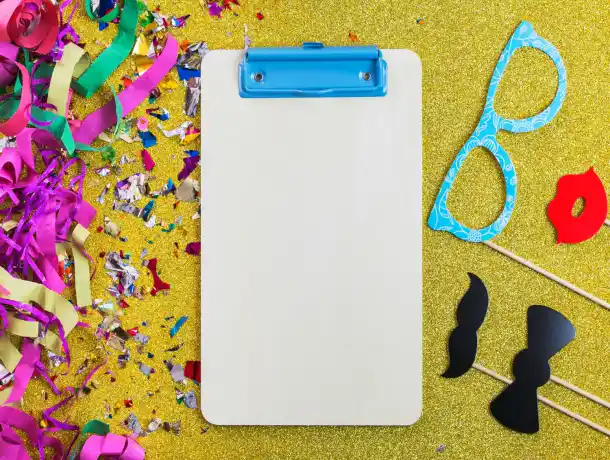 Start planning 1-2 months prior to the event. It is important to plan the venue time and date based on the availability and schedule of parents and kids attending the party. Design and send invitations, either digitally or by mail. Include all pertinent information, such as the date, time, location, theme, RSVP information, and any dress requirements. Follow up with people who haven't responded to your invitations. Make a final headcount 2 weeks before the event to plan catering and seating.
Choose a Theme
A theme for a child's birthday party can make the occasion more thrilling and entertaining.  Begin by considering what the birthday youngster is enthusiastic about. It could be a cartoon character, superhero, animal, pastime, or activity they enjoy. Choosing a theme for the birthday party planning checklist that is meaningful will make the celebration more memorable.
Make certain that the theme is appropriate for the child's age. Younger children may like themes such as animals, pirates, princesses, or superheroes, whereas older children may prefer more particular subjects such as science, mystery, or sports. Look for popular trends or characters that are currently captivating the interest of children. 
Characters from current films, TV shows, or video games could be included. After you've decided on a general theme, consider how you might personalise it to make it distinctive. Include the child's name, favourite colours, or other personalised details. If you have a certain venue in mind, make sure the theme complements the mood of the venue. Some themes may work well in indoor settings, while others may be ideal for outdoor gatherings.
Think about how the birthday theme lends itself to enjoyable activities and games. A "pirates" theme could include a treasure hunt, or a "spa day" theme could include DIY spa activities. Try to include the theme throughout the entire party, from invitations to decorations, food, and even party favours. This results in a more coherent and immersive experience.
Include the youngster in the decision-making process if they are old enough. Inquire about their thoughts and preferences on the theme. After all, it is their special day!
Make a Guests List
Putting together a guest list for a birthday party requires considerable thought to ensure that you invite the right people and have a memorable event. Choose between a small, private meeting and a larger celebration.
Consider whether the event is only for the family, a kids' party, or an event for friends and extended family as well. Determine the maximum number of guests you are willing to welcome. While it's lovely to celebrate with a large group, be sure the amount of visitors is appropriate for the venue, activities, and your hosting talents.
Keep in mind that the guest list is an important aspect of the birthday party planning checklist. It establishes the tone for the party and ensures that the appropriate individuals attend to share in the birthday delight.
Select a Location
Choosing the right venue for a birthday party is an important decision that may have a significant impact on the overall experience. Understand the nature of the party (e.g., casual, formal, kids' party) so that the venue can be appropriately matched.
Determine how much money you are willing to spend on venue leasing. Make an approximate estimate of the number of guests you intend to invite. This will assist you in selecting a venue with sufficient capacity. Select a location that is handy for the bulk of your guests. Take into account their accessibility and proximity to their residences.
Make sure the venue has enough room for your visitors, including seating, dining, and any scheduled activities. Examine what the venue has to offer in terms of tables, chairs, sound equipment, decorations, parking, and so on. Make sure the ambience of the location matches the tone and topic of the party.
Examine the food options if the venue offers catering. If not, inquire about the possibility of bringing in outside food. Consider whether the scheduled entertainment or activities can be accommodated at the venue. Check to see sure the venue has enough parking for your guests. Inquire about any venue-imposed restrictions or rules, such as noise limits or time constraints.
Check that the location has suitable security measures in place. Prepare a backup plan in case of inclement weather or other unanticipated occurrences. Once you've found the perfect venue, reserve it well in advance to ensure your date. Choosing the right venue is an important step in the birthday party planning checklist process. Take your time researching and comparing possibilities to verify that the location fits your vision for the event and can comfortably accommodate your attendees.
Plan Your Entertainment and Activities
Planning games and activities for children at a birthday party can make the occasion more enjoyable, engaging, and memorable. Remember to alter the intensity and complexity of the games according to the age group of the children attending. Also, to accommodate varied interests, and provide a balance of busy and peaceful activities. You can plan entertainment and activities for the event based on the theme of the event. Games and activities are an important birthday party planning checklist that needs to be planned for kids' events. The idea is to keep the youngsters entertained and involved for the duration of the celebration!
Menu Planning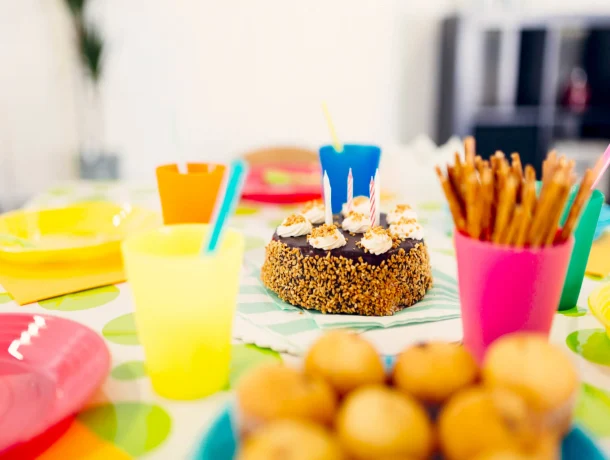 Menu planning for a children's birthday party entails selecting a selection of dishes that are enticing to children and easy to eat.
Things to consider when designing the menu
Allergies and dietary limitations: Check with parents to see if any of the visitors have any allergies or dietary limitations.

Finger-Friendly: Choose foods that are simple for children to eat and don't require cutlery. You can include food items like cheese cubes or cheese sticks, mini crackers, spring rolls, etc. 

Colourful and playful: Children are drawn to colourful and aesthetically appealing foods, so try to include colourful fruits and vegetables like fruit skewers, veggie sticks with dip etc.

Variety: To accommodate varied preferences, offer a combination of savoury and sweet products.

Little portions: Because children have small appetites, serve dishes in little portions.

Follow the theme: Use themed plates, glasses, and napkins to enhance the presentation.

Hydration: Provide plenty of beverages to keep the kids hydrated. drinks like fruit punch, juice boxes or pouches, milkshakes etc can be included.

Simple favourites: While you can include some unusual items, don't forget about classic kid-friendly favourites like chicken nuggets, mini burgers, pizza, pasta sandwiches etc. 
You can ensure that the kids at the birthday party have a good culinary experience by creating a well-balanced meal with a combination of appetising and exciting alternatives.
Choosing the Cake
Choosing the ideal cake for a birthday party is a fun aspect of the birthday party planning checklist process. Consider the party's theme and how the cake may fit into it. Select a flavour that the birthday person enjoys. Chocolate, vanilla, red velvet, and fruit flavours are popular choices.
Choose a cake design. Depending on your preferences, it might range from simple and elegant to ornate and inventive. Incorporate theme elements such as colours, characters, or symbols. Select a cake shape and size that corresponds to the number of people you'll be serving. 
Consider whether you want a classic frosted cake or something a little different, such as a fondant-covered cake, cupcakes, or cake pops. Consider the birthday person's and visitors' allergies and dietary limitations. If necessary, choose gluten-free, dairy-free, or egg-free choices. Investigate local bakeries or cake decorators who are known for producing high-quality cakes. 
Once you've decided, place your cake order as soon as possible to ensure availability on the party day. Consider personalising the cake with the birthday person's name or a unique message. Keep in mind that the birthday cake is often the focal point of the party and serves as a centrepiece. Consider its design and flavour to make the birthday party even more memorable.
Finishing Touches
Adding thoughtful finishing touches to a birthday party can improve the whole experience and generate long-lasting memories.
Decorations: Ensure that all decorations are arranged in accordance with the chosen theme. Make sure everything is in place and visually appealing, from banners and balloons to table centrepieces.

Photo booth: Set up a photo booth with theme-appropriate props. It's a terrific way for guests to have a good time and make memories.

Music: Create a playlist that fits the party's vibe. Music sets the tone, whether it's energetic music for dancing or soothing melodies for a relaxed gathering.

Seating arrangements: Arrange seating for comfort and convenience. Arrange chairs so that people can converse comfortably.

Table settings: Take note of table settings, such as matched tablecloths, napkins, and themed dishes and cups.

Personalised elements: Include personalised elements such as name tags or place cards with a personal message for each visitor.

Party favours: Make theme-appropriate party favours. They're a method to express gratitude to guests and leave them with a modest gift of appreciation.

Activity stations: If you have scheduled activities, make sure that all stations are well stocked with supplies and instructions.

Showcase the cake: Place the birthday cake prominently, perhaps on a cake table or stand.

Thank-You Notes: Prepare thank-you notes or cards to express your appreciation to your guests for coming.
Remember that the final touches should represent the celebrant's personality as well as the event's theme. Every detail adds to the overall experience, making for a memorable and joyful birthday party.
Conclusion
Birthday party planning checklist is crucial to enjoy a fun and memorable event. Remember that adaptability and flexibility are vital since unforeseen events may develop. Proper planning will make sure to take care of all the minute details of the event. Make sure you and your child have a great time when throwing a birthday party! You'll be well on your way to arranging a spectacular kid's birthday party in 2023 if you use this checklist!