Birthday packages are pre-designed and bundled services offered by event venues, party planners, entertainment centres, or party organisers to commemorate a birthday. These packages are intended to make the planning process easier while also ensuring a seamless and enjoyable occasion for the birthday person and their guests. The components of a birthday package can vary depending on the venue or service provider and the customer's preferences, but they typically include a combination of the following elements:
Booking a venue: Booking a specific place or space for the event, such as a banquet hall, party room, outdoor area, or entertainment centre, is known as a venue rental.
Decorations: Themed or general party decorations to create a festive mood. Balloons, banners, table centrepieces, and other ornamental things are examples of this.
Activities or games for entertainment: Depending on the style of the event, entertainment choices for visitors may include games, performers, magicians, clowns, DJs, or interactive activities.
Catering/Food: Guests are served food and beverages. This could include a complete meal, nibbles, appetisers, drinks, and, a birthday cake.
Themed Parties: Customised packages based on a specific theme selected by the birthday person, such as a superhero, princess, sports, science-related or any other theme. Decorations, costumes, and activities relevant to the chosen theme can all be included in themed packages.
Photography/Video Services: The provision of a photographer or filmmaker to capture moments during the event, providing the birthday person and visitors with lasting memories.
Party favours: party favours or return gifts are small presents or goodie bags presented to guests as a thank you for attending the event.
Invites: Customised physical or digital invites produced and given by the event organiser for distribution to visitors.
Logistics and Coordination: Help with event logistics, planning, coordination, and occasionally on-site event management to ensure everything works successfully.
Games and Activities: Games, and activities, are organised for guests, particularly in children's birthday packages.
Specialised birthday packages for children
Based on the venue, theme and interest of a guest and the birthday person, there are different birthday packages available for children. The birthday packages can be opted out based on your budget and theme and can even be customised for further changes. 
Amusement parks and entertainment centres
Many Bangalore amusement parks and entertainment centres offer specialised birthday party packages for children. These packages frequently include access to rides, activities, party rooms, decorations, food, and, in some cases, a custom cake. Birthday packages at amusement parks and entertainment centres often include a comprehensive celebration experience on the park or centre's premises.
These packages are intended to present the birthday person and their guests with a day of excitement and enjoyment. The particular specifications and offerings of each amusement park or entertainment centre may differ. It is best to inquire directly with the park or centre about their birthday party packages, alternatives, availability, and cost.
Indoor play areas
Indoor play zones and activity centres frequently provide birthday party packages for children. Playtime, themed décor, party favours, food, and a birthday cake may be included in these packages.
Keep in mind that offers may differ depending on the indoor play area. It's best to get in touch with the exact indoor play area you're interested in to learn more about their birthday packages, including pricing, availability, customisation possibilities, and any special features they may have. Discuss any dietary restrictions or specific needs you may have for the birthday party.
Packages for adventure sports and activities
Adventure parks and activity centres may provide birthday packages that include kid-friendly adventure activities such as rope courses, ziplining, trampolining, and more. These packages frequently include food, beverages, and party planning. Adventure sports and activities birthday packages are meant to deliver an amazing and adventurous experience for the birthday individual and their guests.
These packages frequently contain a mix of adventure activities, refreshments, and, in some cases, party planning. To inquire about their birthday packages, contact the relevant adventure sports and activities facility directly. To arrange a great adventure-filled birthday celebration, details such as the range of adventure activities offered, package price, customization choices, and any unique requirements should be discussed with the venue.
Themed birthday celebrations
Event organisers and party planners can design themed birthday parties for children based on popular characters, superheroes, animals, or any other topic. Themed décor, costumes, games, entertainment, food and cake may be included in these packages. Themed birthday parties are a popular method to make a birthday party memorable and unique. Event organisers and party planners frequently provide themed birthday packages to accommodate a variety of interests and preferences.
Popular birthday themes include superheroes, princesses, pirates, animals, cartoons, sports, and many more. It is critical to discuss the precise theme you have in mind with the event organiser or party planner so that the package can be customised accordingly. When selecting a themed birthday package, convey your preferences, the age range of the visitors, and any specific features you'd like to include to create a fun and memorable themed celebration.
Outdoor picnics at home
Some families prefer to plan outdoor picnics in parks or attractive areas. You can prepare and arrange games, activities, food, and cake for the youngsters, albeit these are not formal packages. Outdoor picnics at home, especially if you have a large backyard or outdoor area, can be a charming and peaceful way to celebrate a birthday.
While not as formal as some other party packages, you can plan and organise many elements to ensure a fun and joyful occasion. Putting together your own outdoor picnic birthday package provides for a more personalised and intimate party in the comfort of your own home. Make sure to share your ideas with visitors, and enjoy a relaxing and pleasurable outdoor celebration.
Ceramics and craft studios
Birthday parties at art and craft studios may include creative activities such as pottery, painting, or other crafts. Typically, these bundles include the art activity, decorations, refreshments, and cake. Ceramics and craft studio birthday packages are ideal for those who appreciate creative and artistic pursuits. These packages allow you to participate in hands-on creating and ceramic activities while celebrating a birthday.
For the birthday individual and their guests, a guided crafts or ceramics session is planned. Pottery painting, ceramic sculpting, canvas painting, and jewellery making are some examples. All art tools and materials required, such as pottery, paint, brushes, aprons, canvases, beads, or clay will be generally given to the guests. Participants will receive instruction and direction from expert artists or instructors to help them create their own artwork or crafts.
Catering and cake services
Catering firms and bakeries frequently offer customised catering packages for children's birthday parties, which include a variety of meal selections as well as themed cakes. Birthday packages that include catering and cake services are a convenient method to ensure that the culinary parts of the event are handled. These packages frequently include a selection of meal options as well as a custom-designed birthday cake. You'll get help with event logistics, clean up, and making sure the catering and cake services go well. Collaboration with the catering provider to create and customise the cuisine depending on preferences, dietary restrictions, and overall celebration theme.
It is critical to explain your preferences, dietary needs, and any unique requests you may have for catering and cake services. Working closely with the catering team and offering clear directions will go a long way towards creating a memorable dining experience for the birthday celebration.
Choosing a children's birthday package
To ensure a memorable, enjoyable, and age-appropriate party, choosing the ideal birthday package for kids requires taking into account a number of different criteria. Here is a step-by-step guide to assist you in selecting a birthday package that matches the preferences and interests of your child: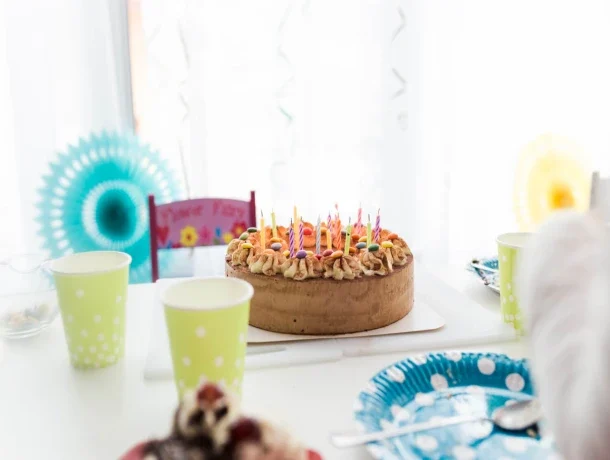 Think about the child's age and interests: Take your child's age, interests, and hobbies into consideration. While older children could like adventure sports or arts & crafts, younger children might enjoy themed parties, play spaces, or outdoor activities.
Discuss your preferred themes: Inquire about your child's favourite themes or characters. You can choose a suitable package using themes like superheroes, princesses, animals, sports, or particular cartoon characters.
Establish a budget: Establish a spending limit for the party. Knowing your budget can help you narrow down your possibilities because different packages have different pricing points.
Get recommendations by reading reviews: Read evaluations or seek advice from friends, relatives, or online parenting communities. Real-life experiences and other people's opinions might offer insightful information on the venue's and package's quality.
Ask about package included items: To find out what is included in each package, get in touch with the locations or the planners. Verify the availability of games, food, cake, decorations, entertainment, and party favours. Verify the availability of any additional services, such as entertainment, food, cake, decorations, and party favours.
Visit the location: Visit the location if you can to evaluate the amenities, security measures, hygiene, and kid-friendliness. You'll have a better idea of what to anticipate after visiting the location in person.
Customization: If the product can be modified to meet your child's tastes, ask about it. Customised themes, decorations, or activities may be permitted at some locations.
You can select a birthday package that ensures your child will have a happy and memorable party by carefully taking into account their hobbies, your financial situation, and the possibilities available.
Conclusion
A birthday package's goal is to streamline the host's preparation process, provide convenience, and often save money when compared to organising each piece independently. Customers can select a package according to their tastes, budget, and the style of celebration they want. Consider the child's age and interests, the number of guests, and your budget when choosing birthday packages for kids. Inquire directly with the venues or service providers about the most recent offerings, availability, and price for birthday parties for kids in Bangalore.