Why do you need creative and unique party themes for a birthday celebration?
A memorable party theme produces a memorable experience for both the host and the visitors. It distinguishes the celebration from other types of gatherings, making it memorable in everyone's minds.
Guests are excited and anticipate creative and unique party themes. People look forward to attending a party that promises to be unusual, enjoyable, and exciting compared to other events.
Creating a one-of-a-kind theme necessitates creativity and innovation. It inspires the party planner to go beyond the box regarding decorations, activities, and entertainment.
Creative and unique party themes enable the host to tailor the party to match their interests, hobbies, or passions. It adds a personal touch to the event that connects with the birthday person or persons.
Guests are more likely to engage and participate when the theme is unusual. Creative and unique party themes make attendees actively interested in the party, whether it's dressing up in costumes, solving puzzles, or playing themed games.
Creative and unique party themes can lead to more online shares, likes, and conversations in the age of social media. Guests are more likely to photograph and share memorable moments from a unique and exciting celebration, spreading delight beyond the immediate participants.
Creative and unique party themes can make it easier to plan entertainment consistent with the overall concept. The entertainment can be personalised to meet the party theme, from themed entertainers to speciality acts, enriching the whole experience.
Guests are more likely to remember and discuss a one-of-a-kind theme party for years to come. It becomes a treasured memory that people cherish. Individual topics can be tailored to different age groups and circumstances. Creative and unique party themes can be customized to appeal to the audience and purpose, whether it's for a child's birthday, a milestone celebration, or a special occasion.
If you throw parties or events on a regular basis, having a variety of distinct theme ideas helps minimize celebration fatigue and makes each occasion feel fresh and exciting.
Best games for birthday parties
The greatest birthday party games are determined by the age group of the guests and the party theme. Here is a list of popular and enjoyable games that may be adapted to various age groups and celebration types:
Musical chairs: A timeless classic that is always a hit. Arrange chairs in a circle, turn on some music, and have the children wander around the chairs. When the music stops, they must find a chair to sit on. After each round, one chair is removed until just one player remains.
Pin the tail on the donkey:

Blindfold the participants and have them try to pin a tail on a donkey poster or a similar game with a party-related theme.

Treasure hunt:

Set up a treasure hunt throughout the party area, with clues leading to hidden goodies or goody bags.

Freeze dance:

Play music and have the kids freeze dance. When the music stops, they must remain motionless until it resumes.

Pop the balloon:

Fill balloons with small treats or notes, then have the youngsters pop the balloons to find out what's inside.

Water balloon toss (for outdoor parties):

Split the children into pairs and have them toss water balloons back and forth. With each successful toss, move closer together until just one pair remains.

Minute to win it Games:

Create a series of short and enjoyable games based on the TV show "Minute to Win It."Set up a gaming station with age-appropriate video games and let the kids play in a friendly competition.
When choosing games, keep in mind the attendees' tastes and age range. Also, have some backup games on hand in case any of the planned activities do not go as planned.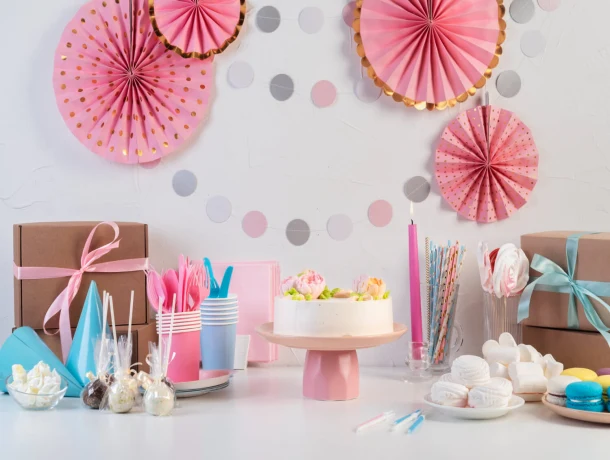 Unique Birthday Gifts For Kids
When it comes to selecting unique birthday gifts for kids, it's all about matching their interests, sparking their creativity, or bringing joy into their lives. Here are some suggestions for unusual birthday gifts for children:
Order a personalized tale with the youngster as the main character in an exciting adventure.
Select craft kits that allow children to make something unique, such as a DIY tie-dye kit, friendship bracelet set, or painting kit.
Pique their interest with scientific experiment kits that allow kids to explore and learn through enjoyable activities.
To stimulate outside exploration, give them a pair of binoculars, a bug-catching kit, or a nature journal.
Encourage their interest in robotics and engineering by providing them with a kit that allows them to construct and programme their own robot.
Introduce children to the joys of music with a beginner-friendly instrument, such as a tiny keyboard, ukulele, or harmonica.
Consider giving a monthly subscription box geared to their interests, such as a book club, painting supplies, or science projects.
An inside playhouse or tent provides kids with a quiet location to play and exercise their imagination.
Select board games that are both fun and informative, assisting students in developing critical thinking and problem-solving skills.
If your child is interested in technology, a kid-friendly VR headset can provide a unique and engaging experience.
Make a puzzle out of a child's photo or a favourite memory.
A kid-friendly baking or cooking set will help them develop their culinary skills.
Get them some novel sporting equipment, such as a glow-in-the-dark soccer ball or a light-up basketball.
When choosing a gift, keep the child's age, interests, and safety issues in mind. Personalized presents and experiences catered to their specific tastes will make their birthday particularly unique and memorable.
Conclusion
Creative and unique party themes, in general, offer a layer of excitement and originality to any celebration, making it a memorable and unforgettable event for everyone involved.