Planning unique first birthday decorations can be a fun and memorable way to commemorate the wonderful occasion. Decorating ideas for birthdays can be of many types, you can plan according to your theme and make a unique decoration for the birthday celebration.
A kid's first birthday is memorable for a variety of reasons, both for the youngster and their family. The first birthday celebrates the parents' joy and memories of nurturing and caring for the kids during their first year. It's a time to be proud of yourself and reflect on your parenting path.
It is frequently the first time extended family and friends gather to celebrate the child's birthday celebration. It strengthens social bonds and reminds everyone of the value of family and community. A first birthday is a symbol of optimism for the future. It marks the start of a child's life journey and the potential that they possess. It is a time for parents to fantasise about their child's future and all of the experiences and chances that await them.
Unique first birthday decorations
Personalised Banners
Make a personalised banner with the child's name and a "Happy 1st Birthday" message. To make it unique, add colourful cardstock, paint, or fabric. Make it even more memorable by including images from your child's first year. Personalised banners can be customised to reflect the individual's or event's theme and preferences. This level of customisation adds a fun factor because it can be tailored to the individual's interests and hobbies. Banners are frequently displayed prominently at parties or events, making them the centre of attention. A personalised banner's visual impact can be startling and thrilling, creating a celebratory environment and making it unique first birthday decorations.
Personalised banners make excellent photo backdrops. They invite guests to take photos with the banner to commemorate the occasion. These photographs are frequently treasured mementoes. Hang a string of photos from your child's first year to create a timeline of their development.
Giant Number One
Make a large "1" out of cardboard, foam board, or plywood. Decorate it to fit the birthday theme with paint, glitter, or wrapping paper. This large number can be used as a focal point or as a backdrop.
Balloon Garlands
Using balloons in your chosen colour palette, make a lovely balloon garland and creative and unique first birthday decorations. For added glitz, use metallic or confetti-filled balloons. DIY balloon garland kits are available, or you can hire a balloon artist to create a personalised design. Balloon garlands are often formed from a variety of brightly coloured balloons, resulting in a visually appealing and energetic show. The bright colours immediately draw attention and set a pleasant tone and a fun decorating idea for a birthday.
Balloon garlands can be tailored to any theme, colour scheme, or style. You can make a balloon garland to match any occasion, such as a birthday party, wedding, baby shower, or other celebration. Balloon garlands make a striking visual statement. They have the ability to transform any place into a festive and attractive setting. Balloons are naturally happy, and a garland of them magnifies that feeling.
Themed Centrepieces
Make themed centrepieces to complement the theme of your celebration as unique first birthday decorations. Themed centrepieces are a great way to improve the overall look of your event. They act as focal points and connect the whole theme or concept, making the venue more visually appealing. Themed centrepieces emphasise the topic or concept of the event, creating a coherent and immersive ambience. Centrepieces assist in communicating the tale of the theme at a birthday party.
Intriguing and imaginative-themed centrepieces encourage people to converse. They give a common interest and can act as icebreakers, allowing individuals to connect and engage. Beautiful and elegant centrepieces enhance the gathering environment. They can be visually appealing, exhibiting the decorator's inventiveness and attention to detail.
Guests frequently like investigating and admiring centrepieces. They may photograph them, inquire about their design, and appreciate the time and effort that went into making them. Personalisation is one of the unique first birthday decorations that you can plan. Themed centrepieces can be tailored to the honoree's interests, hobbies, or preferences. This personalisation gives the event a thoughtful and meaningful touch.
Party Hats
Party hats come in a variety of bright and whimsical styles. Their bright and whimsical appearance immediately provides a joyful and lighthearted feel to any occasion. Use coloured cardboard, glitter, and ribbons to make one-of-a-kind party hats for the tiny attendees. To make them unique, add a fun feature like pom-poms or paper cutouts.
Party hats are a universal sign of joy and celebration. When people see someone wearing a party hat, it creates a sense of excitement and anticipation that a big celebration has begun. Party hats are an inclusive item that can be worn by people of all ages, including children and adults. During the celebration, this inclusivity generates a sense of connection and oneness. Many party hats can be personalised or customised to make unique first birthday decorations to match the individual's style or the party theme. People can exhibit their ingenuity and individuality through customisation.
Party hats make excellent photo props. They make photos more pleasurable and memorable by adding a humorous and festive element to them. People frequently pose in party hats to create memorable memories. The presence of party hats during surprise parties can be a fun and unexpected aspect that adds to the surprise and excitement.
Memory Collage
Make a collage of photos from your child's first year. Arrange them to form a "1" or a birthday cake. Captions or milestones can be added to each photo. Memory collages are made up of images and artefacts that depict important memories from the child's first year. For parents and family members, these photographs elicit nostalgia and sentimental significance.
The collage depicts the child's growth and development over the past year. It commemorates major occurrences such as the first smile, first steps, and other noteworthy events. A memory collage allows the child's journey to be shared with friends and family. It allows people to witness and appreciate the baby's development and achievements and is a unique first birthday decoration.
Collages frequently stimulate engagement, as guests crowd around to view the images and comment on how much the youngster has grown. It can serve as a focal point for discussions and reminiscence. Making a memory collage is a creative and personal endeavour. It is a beautiful and heartwarming addition to the celebration since it symbolises the care and affection placed into commemorating the child's first year.
Paper Lanterns
Use paper lanterns of various colours and sizes to decorate the party space. If the party is outside, hang them from the ceiling or from the trees. Paper lanterns are available in a variety of colours and patterns. Their rich colours instantly brighten any environment, resulting in a lively and festive mood. Paper lanterns are visually fascinating due to their distinctive shape and design. They bring a touch of refinement and whimsy to the design while also being visually appealing.
Paper lanterns are versatile and unique first birthday decorations because of their adaptability, they can be used for a variety of occasions. Some paper lanterns are built to contain electric bulbs or LED lights inside. They emit a soft, pleasant glow when lit, adding to the mood and making them excellent for evening occasions.
Making first birthday special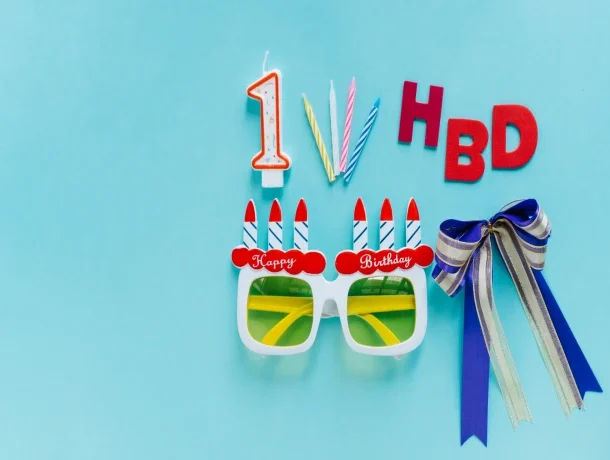 A child's first birthday is marked with specific traditions and rituals in many countries. These celebrations frequently include customs passed down through generations, giving the event cultural value. One of the first big milestones in a child's life is his or her first birthday. It denotes the end of the baby stage and the start of toddlerhood. Parents frequently recall this day with wonderful memories and images.
This is an opportunity to make lasting family memories. From the décor to the cake smash, parents treasure these experiences and pass them on to their children as they grow older. The child's first birthday is an opportunity to convey love and affection. It's a recognition of the child's close relationship with their parents and carers.
The first birthday is a visual reflection of the child's development. Parents might marvel at the physical, emotional, and cognitive development of their infant to the one-year-old they now have. This is a time for parents to reflect on the first year's joys and hardships. It's a time to celebrate tiny successes, major accomplishments, and lessons learned.
The first birthday is a time for parents to completely embrace their position as parents. It's a celebration of their love and dedication to their child's first year. First birthdays are filled with pure joy and innocence. The toddler may not fully comprehend the celebration, but their wide-eyed expression says otherwise.
Conclusion
A child's first birthday is significant because it marks the culmination of love, care, and hope for the child's future. It's a time for families to gather together, celebrate their child's development, and make memories that will be loved for years to come. Make this day special with fun and unique first birthday decorations and enjoy the day!